Regular price
Sale price
€29,00 EUR
Unit price
per
Sale
Sold out
In stock - Ships within 1-3 business days
Volume up to 115 db
Rechargeable with a bicycle pump
Suitable for all bicycles and trikes
Weight: 135 g
shares
View full details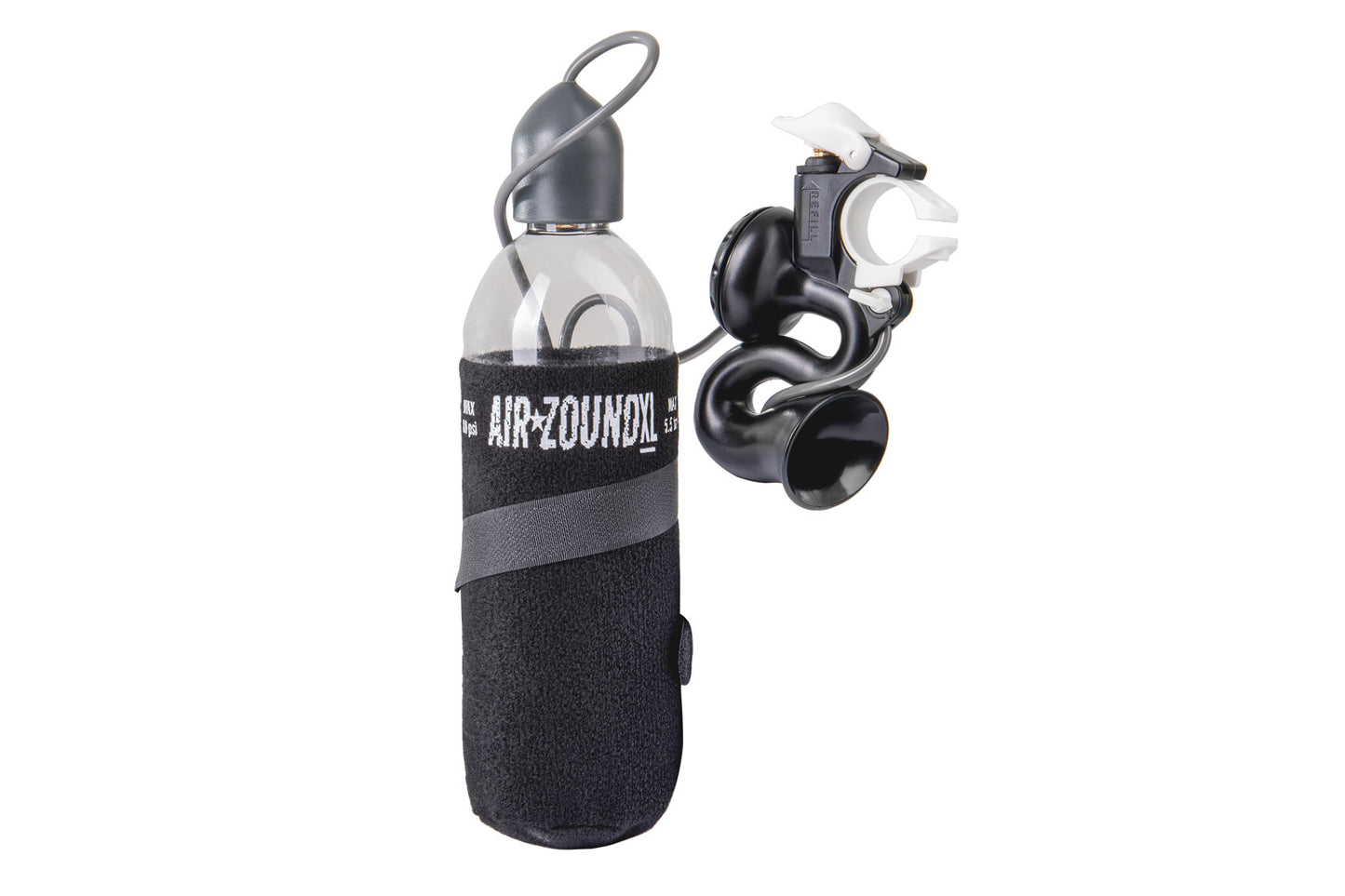 Description
You want more safety in road traffic?
The AirZound XL compressed air horn is an extremely practical product for anyone who wants to increase their own safety in road traffic. With this powerful and easy-to-use horn, cyclists can clearly signal their presence to other road users and thus avoid potentially dangerous situations.
Conventional bicycle bells are often quiet and easily overheard by motorists and pedestrians. This can lead to dangerous situations, especially in busy areas or where road conditions are unclear. The AirZound XL offers a convincing performance boost: With an impressive sound pressure of up to 115 decibels - comparable to the volume of a chainsaw at a distance of 1m - it cannot be overheard and immediately attracts the attention of the surroundings. The horn's high-pitched tone ensures that its signal stands out clearly from the background noise of road traffic and you are much more noticeable. One filling is enough for approx. 15 seconds of horn signal, which is hopefully more than enough for your everyday life.
Ready for use in no time at all and particularly easy to clean.
The installation of the AirZound compressed air horn is very simple.It is attached to the handlebars (mounts for 31.8 mm and 25.4 mm handlebar standards are included) and operated with a handy compressed air bottle. The horn signal is triggered by an easy-to-operate pressure switch mounted on the handlebar.The compressed air bottle is light as a feather and can either be stowed in a conventional bottle cage or attached to the bicycle frame almost anywhere using Velcro. Maintenance is uncomplicated, as the air bottle can be refilled with almost any conventional bicycle pump that fits schrader valves. The filling valve is located on the handlebars, where it is easy to reach. The horn is robust and weather-resistant, so it can withstand all the conditions it might be exposed to during your bike rides. The AirZound air horn is not only useful in emergency situations. It can also be used to warn inattentive road users in advance so that a dangerous situation does not arise in the first place. In addition, it promotes a general awareness of cyclists by showing that these road users do not have to silently accept danger either.
Note for users ins Germany: This product does not replace the bicycle bell required by the StVZO.