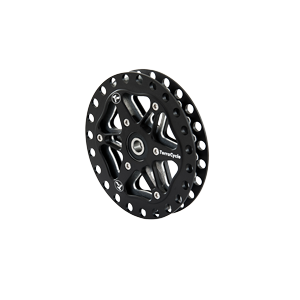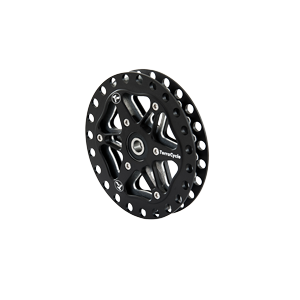 Category: Chain idlers
A bicycle chain is designed to run over cogs and will either mill deep notches in guide rollers made of plastic or bounce over the surface with strong vibration. This is where valuable energy is lost due to friction. T-Cycle chain idlers solve this problem by allowing the chain to run on a CNC machined cog made of either aluminum (Sport) or titanium (Elite), reducing friction, wear and vibration of the drive. For many models of the recumbent scene we offer special chain idler sets which include all the parts you need to mount it on your recumbent.
CNC-manufactured chain guide rollers or deflection rollers are indispensable components for efficient and smooth power transmission on recumbents and tricycles. The deflection rollers manufactured by T-Cycle, manufactured with minimal tolerances, ensure a low-noise and low-vibration ride with the recumbent bike. If you want to equip your recumbent drive with the best attachments, you should pay particular attention to high-quality chain guide components. While chainrings and sprockets are often the focus, the importance of chain idlers is often underestimated. But a chain idler without teeth can lead to friction and loss of power, which is noticeable by notches in the roller and the chain jumping up and down.

This is where the T-Cycle chain idlers come into play. They are supplied with a CNC-machined sprocket in the SPORT version made from high-quality 7075 aluminum or from 6AI/4V titanium in the ELITE version. While the aluminum sprocket offers a long service life, the titanium sprocket is particularly suitable for strong recumbent riders or frequent riders. It is also particularly suitable for small chain idlers and tricycles, which often put more stress on the chain idler. The titanium pinion is a long-term investment in the quality of your drive due to its hardness and durability.

T-Cycle attaches particular importance to the processing of high-quality materials and metal components when manufacturing the chain guide rollers. The power is transmitted from the deep groove ball bearing via the mounting body to the pinion completely via metal, without any plastic parts being mounted. This ensures optimal power transmission without the pinion being able to tear off under load.

A 4mm spacer is required for HP Velotechnik recumbents in order to mount the chain guide roller with 23 teeth. If you want to optimally equip your drive, you should pay attention to high-quality chain guide rollers and use titanium sprockets to ensure a smooth and long-lasting ride.