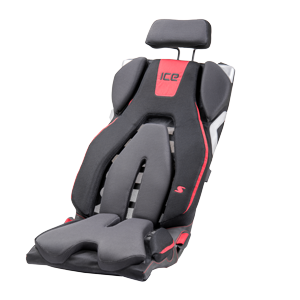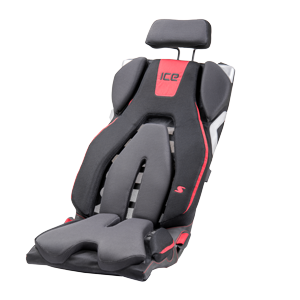 Category: Seat
The seat is the biggest interface between man and trike. ICE has therefore developed a comprehensive repertoire of seat options. The highlight here is that the seats are of course interchangeable. For example, a year-round commuter can switch between the comfortably padded Ergo Luxe structural seat and the ventilated, lightweight Ergo Flow seat mesh, depending on the season. Or a sporty ICE Sprint X pilot mounts the cushioning Ergo Luxe structural seat instead of her sleek carbon hardshell seat to take her trike on a trip around the world. We also offer retrofittable seat accessories such as the practical seat riser, various headrests or the comfortable wristrests.
Find everything you need for your ICE recumbent, including the Ergo Flow and Ergo Luxe mesh seat and the Air Pro bucket seat, at the ICLETTA webshop, your expert for recumbents and accessories.

The Ergo Luxe mesh seat offers a significant increase in comfort thanks to its extensive padding. Ventilation channels ensure pleasant air circulation and a waterproof pocket in the backrest allows items to be transported safely. In addition, you can easily attach the Radical bags to the new seat on both sides using the quick attachment.

The Ergo Flow mesh seat uses the latest materials to set standards for seating comfort and ventilation. The anatomically shaped side pads offer optimal lateral support and the storage compartment in the backrest offers enough space for small items. You can also purchase the ICE foam insert for the Ergo Flow mesh seat to increase seating comfort and reduce the feeling of slipping when pedaling. The ICE rain cover for the Ergo Flow mesh seat protects your seat in the rain.

The Air Pro shell seat is the basic equipment for the ICE VTX recumbent trike and can be ordered in GfK and carbon versions and in sizes M or L. The breathable seat pad is removable and washable. With the Air Pro bucket seats you get the best bucket seats currently available on the market.

In our ICLETTA webshop you will also find seat accessories and spare parts such as the ICE stand-up aid for the ICE Sprint and Adventure as well as the FF and FB adapter for smaller and very large drivers. The ergonomic headrest for the Ergo Flow and Air Pro bucket seat is adjustable in height and inclination, and the headrest pad is removable and washable.

The Ergo Luxe and Ergo Flow seat nets can be retrofitted for all models. A new seat frame must also be ordered for older ICE Adventure models, as the seat frame was modified in 2017 to offer more seating comfort.

Visit our ICLETTA web shop and order the right accessories for your ICE recumbent. We also provide production videos to help you with assembly and installation.