Regular price
Sale price
€29,00 EUR
Unit price
per
Sale
Sold out
In stock - Ships within 1-3 business days
Fits all ICE Trikes with rear suspension
variants:
Soft: White
Medium: Grey
Hard: Black
Length: 40 mm
Outside diameter: 30 mm
Inside diameter: 12 mm
Weights: 28 g / 27 g / 26 g
shares
View full details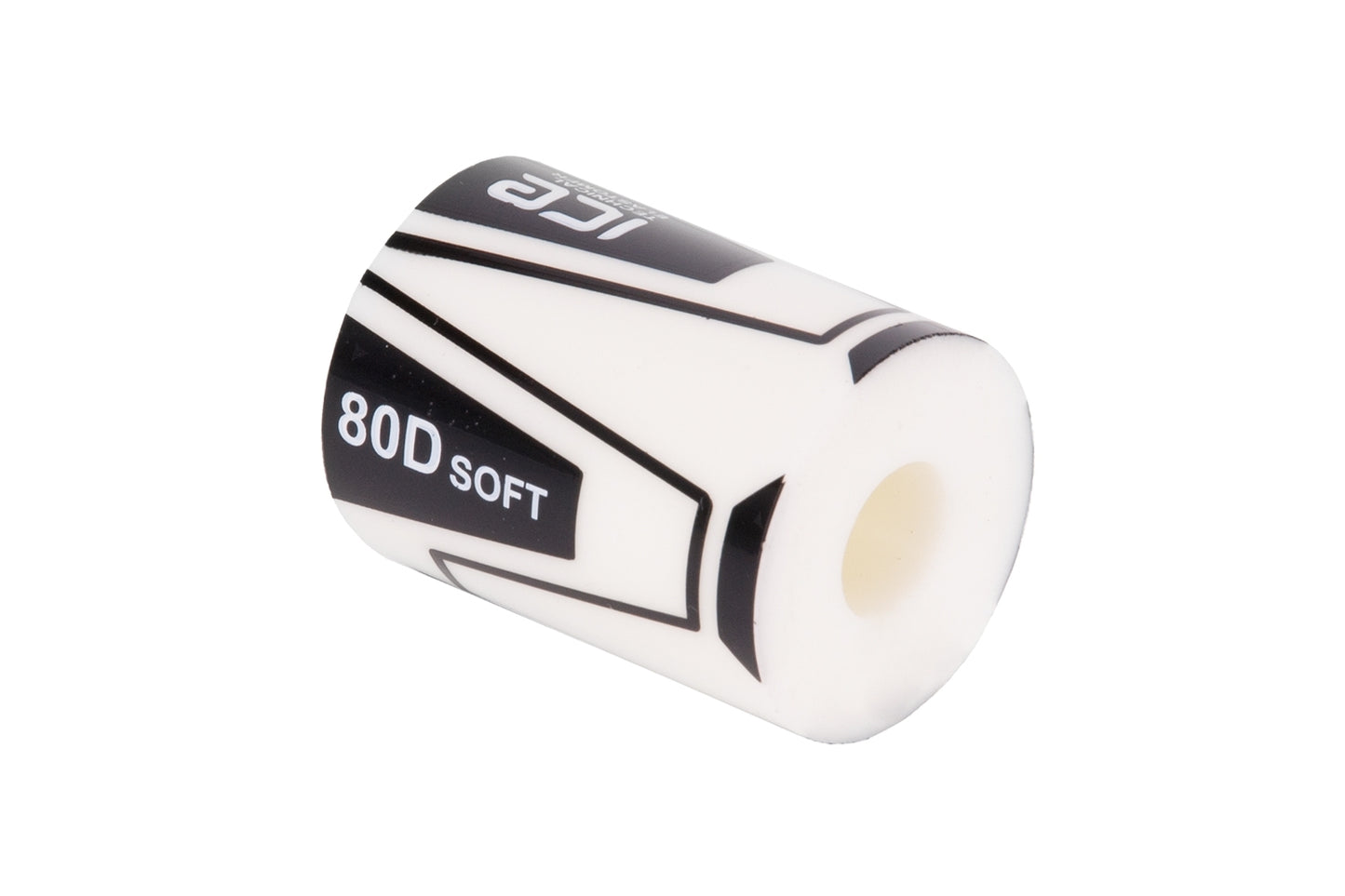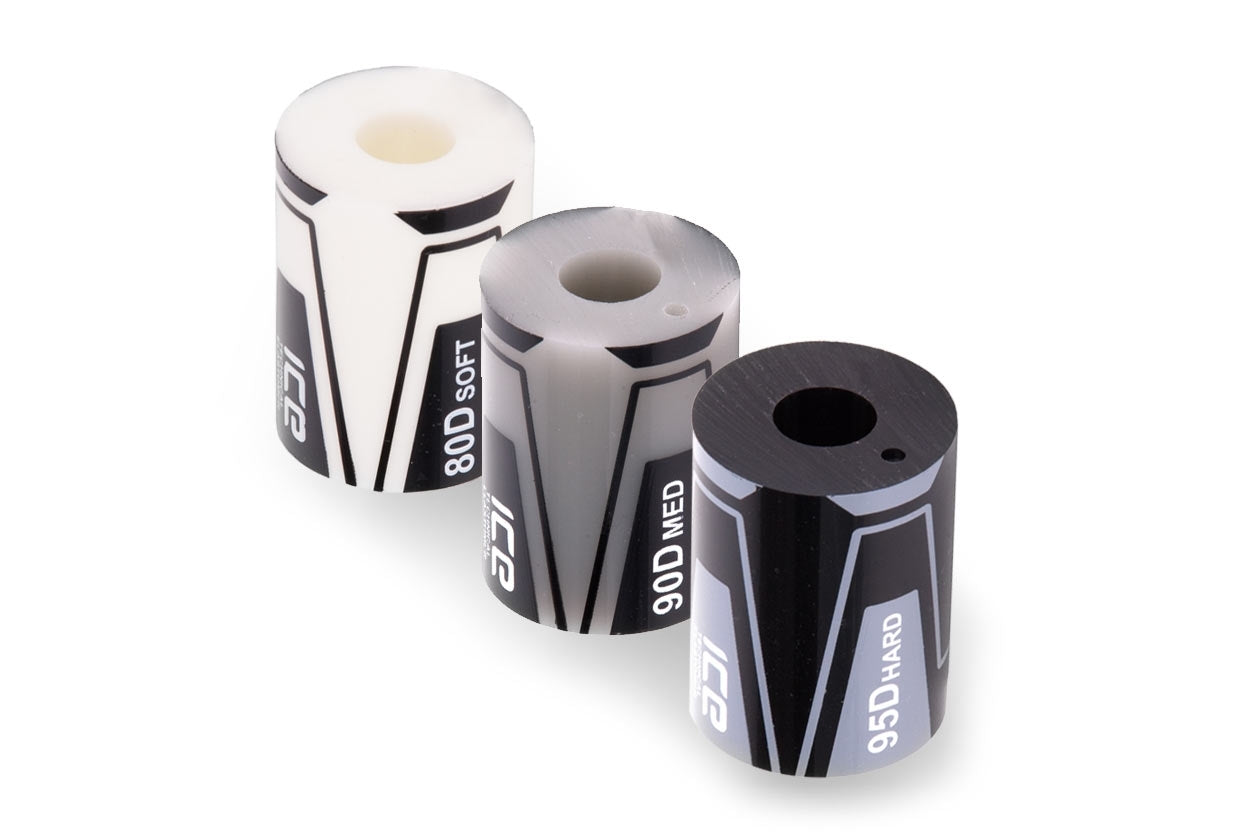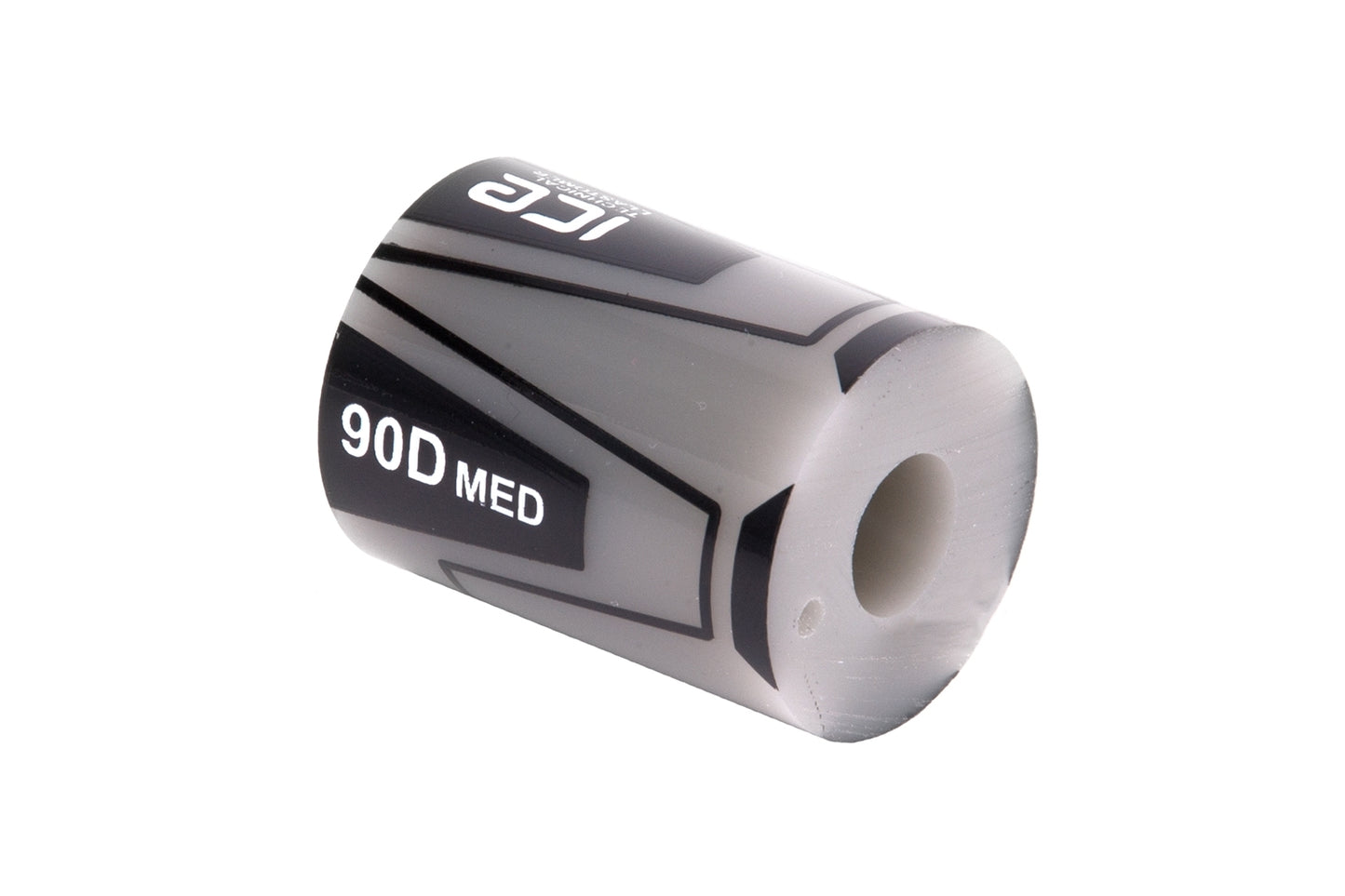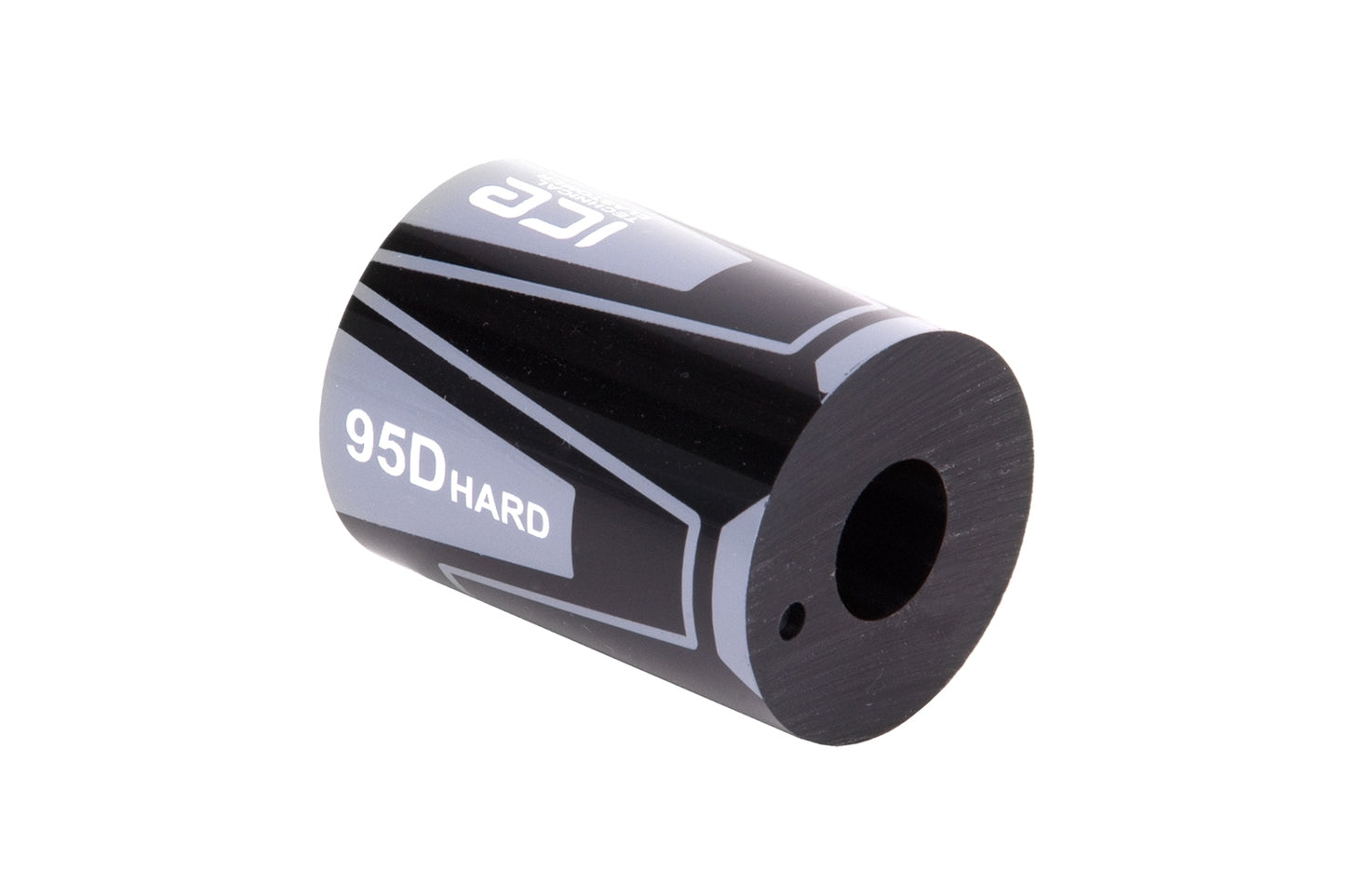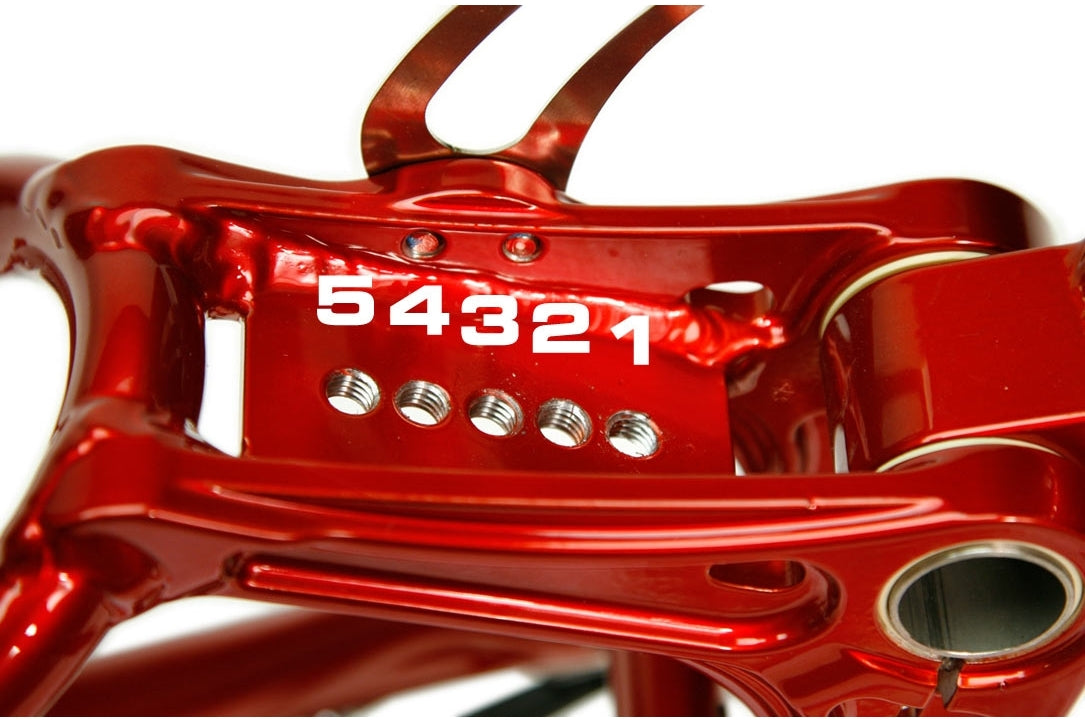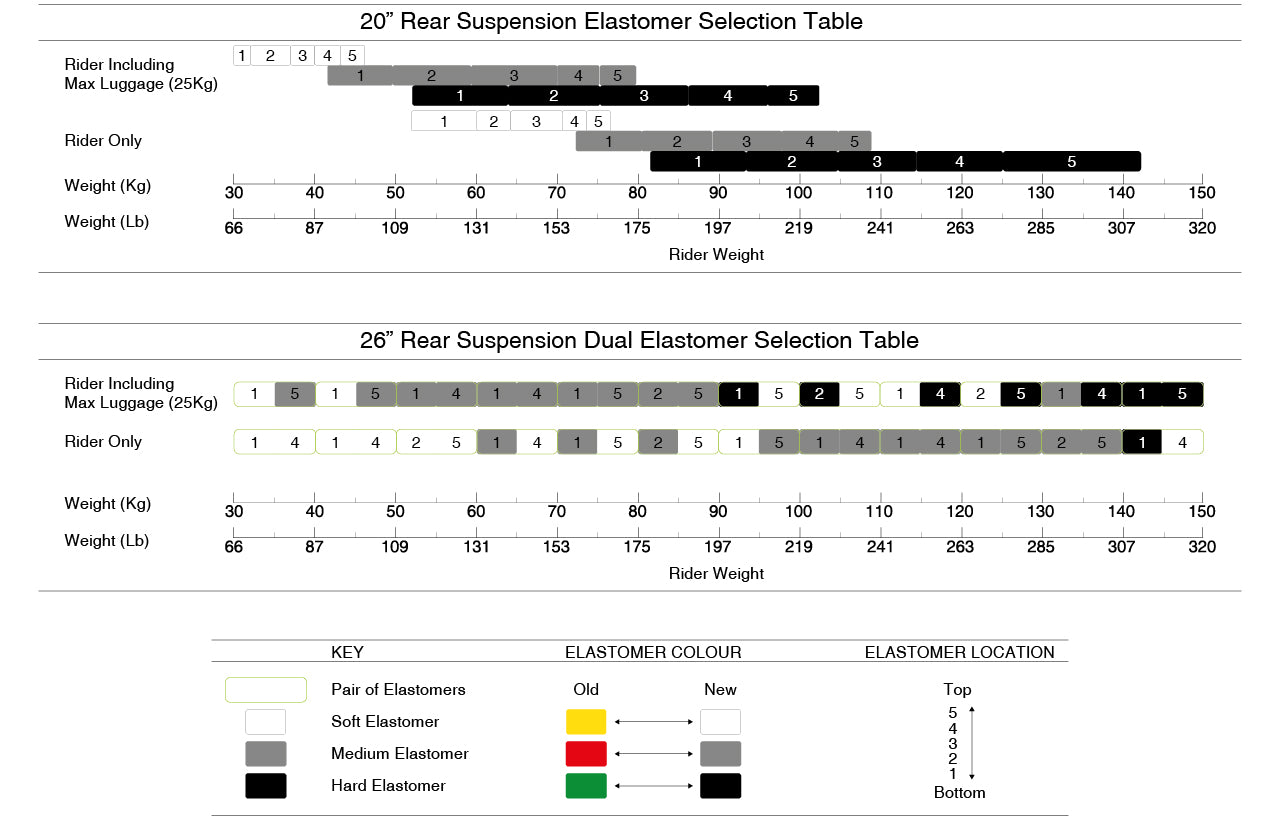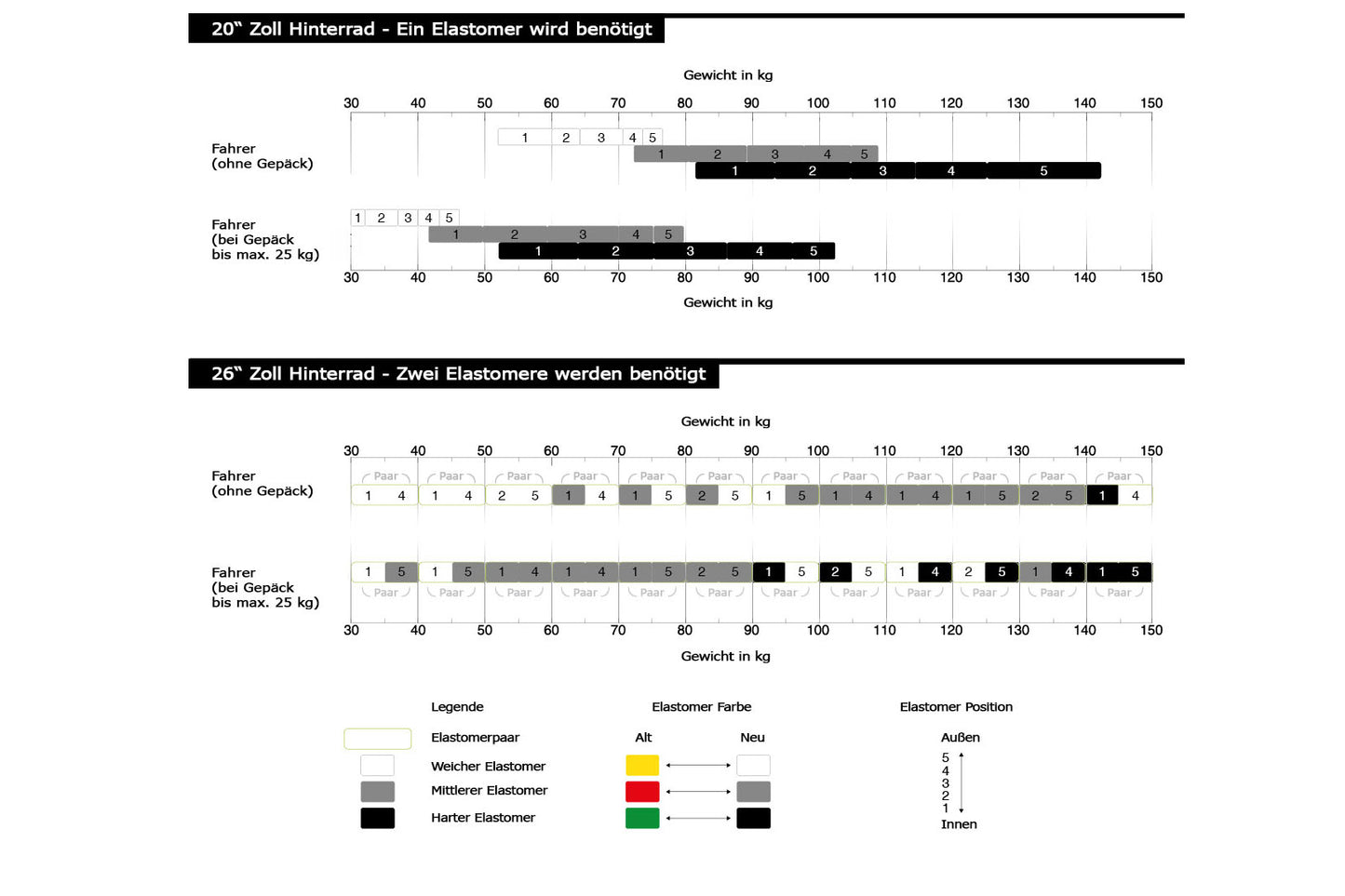 Description
The elastomer suspension with integrated damping and 10 cm travel can be adjusted to your individual requirements with three different spring rates and five different mounting positions. Elastomers are maintenance-free and reliable. ICE customers appreciate this very much on extended trips around the world with a wide variety of geographical and climatic conditions.
The elastomers are available in three different spring rates: soft/medium/hard and can be mounted in five different positions on the rear end. The optimal setting of the rear suspension is a combination of the elastomer hardness suitable for your body weight and the five different mounting positions of the elastomer.
Select the appropriate elastomer for your body weight and the recommended mounting position (see the table in the product images). However, it is definitely worth trying alternative positions as elastomers have different compression characteristics and you may find other combinations of elastomer hardness and mounting position that better suit your riding style and routes. The elastomers can be replaced in a matter of seconds. In addition, they are small and light, so you can always have them with you on your rides and swap them if necessary.
Adjust the elastomer setting accordingly if you are traveling with a lot of luggage. You will feel the difference. If the rack is loaded to its maximum, you should move the mounting position up a notch or two to compensate for the additional weight. If you have already mounted your elastomer on mounting position number 4 or 5, you should replace it with the next harder elastomer.
In the event that you primarily ride in rough terrain or your riding style is very dynamic, we recommend that you try a harder elastomer. On the other hand, if you are more of a pleasure rider who prefers to be at home on smooth asphalt, a softer elastomer may be recommended.
Never use an elastomer that is too soft for your body weight. It could be crushed under the excessive load and become unusable. You should always choose a harder elastomer. Example: With a rider weight of 90 kg, select the hard elastomer in mounting position 2 instead of the medium elastomer in mounting position 4.
Different temperature influences only very slightly change the hardness of the elastomers.
Advantages of the elastomer suspension
Again and again the question arises as to what a "correct" spring element is. Does it absolutely have to be a steel spring with an oil pressure damper or an air spring element? ICE has worked long and hard on suspension systems and has opted for an elastomer-based system because of these advanages:
low weight - has a positive effect on the overall weight, replacement elastomers take up little space in the equipment and weigh almost nothing
Compact - little space required, more compact vehicle design
natural damping – ideal prerequisite for suspension
no static friction - means better response behavior on small bumps in the ground
Uncomplicated function - simple, understandable for everyone, easily exchangeable
no functional failure - as can occur with oil pressure dampers or air spring elements
no noise - no mechanical moving parts that could wear out
absolutely maintenance-free and durable - ideal for touring cyclists
Very flexible in use - there are 3 degrees of hardness and 5 mounting positions, even two elastomers can be used at the same time
quick tool-free change - simply pull them off the head of the 10 mm cylinder screw and put it back on, done